2022 IEEE 全球机器人、人工智能与信息技术学术会议(GCRAIT2022)
时间:2022-07-30 09:00 至 2022-07-31 18:00
地点:线上活动

会议时间:2022-07-30 09:00至 2022-07-31 18:00结束

会议地点: 线上活动 详细地址会前通知

会议规模:120人

主办单位: 维尔学术

发票类型:增值税普通发票 增值税专用发票
发票内容:
参会凭证:邮件/短信发送参会通知 现场凭电话姓名参会
行业热销热门关注看了又看

换一换
会议通知
会议内容 主办方介绍
---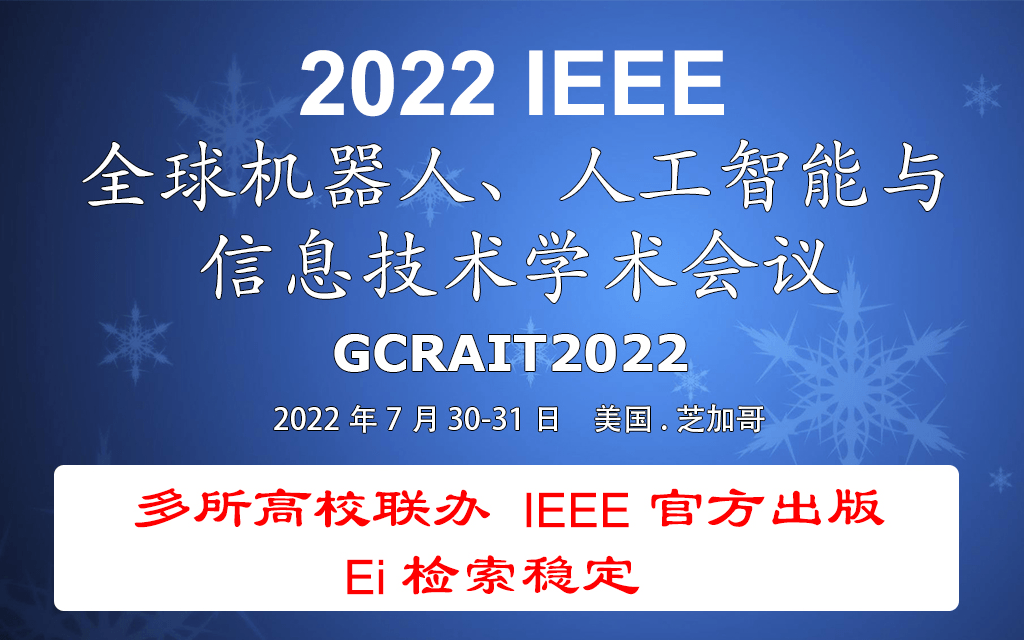 2022 IEEE 全球机器人、人工智能与信息技术学术会议(GCRAIT2022)宣传图
会议简介
由维尔学术和IEEE CPS 主办,华中农业大学承办的2022 IEEE全球机器人、人工智能与信息技术学术会议将于2022年7月30-31日在美国芝加哥举行。(国内参会者因疫情原因,线上参加)
本次会议以机器人,人工智能,计算智能,电力电子技术,计算机科学与信息技术等主题讨论为机器人,建立跨学科,跨实践,跨区域的面对面交流纽带,分享最新研究经验,探寻合作机会,共同推动机器人与人工智能领域科学研究的发展。
会议委员会
Conference Chair

Prof. Yu Huang
Huazhong Agricultural University, China
Biography: Yu Huang graduated from Huazhong University of Science and Technology with a doctorate degree in engineering. In 2018, he was funded by the China Scholarship Council and went to the University of Arizona to study as a visiting scholar. He is currently a teacher at the College of Informatics, Huazhong Agricultural University. He presided over 3 basic scientific research special fund projects for central universities, 1 enterprise horizontal project, participated in a number of National Natural Science Foundation and Hubei Provincial Natural Science Foundation projects. Furthermore, he presided over 1 Hubei Provincial Educational Reform Project, 1 School-level Educational Reform Project, and participated in a number of Provincial Educational Reform and School-level Educational Reform Projects. He has published more than 20 papers in J Neurosci Meth, High Technology Communications, Science Bulletin and related conferences as the (co-) first author and corresponding author and has obtained 4 national software copyrights.
Program Committee Chairs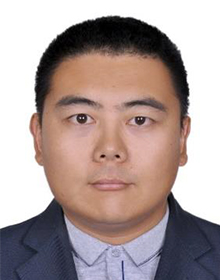 Prof. Lijiang Chen
Beihang University, China
Biography: Lijiang Chen received his B.S. and Ph.D degrees from Beihang University in 2007 and 2012 respectively. He was a Hong Kong Scholar in the City University of Hong Kong from 2015 to 2017. He is now an associate professor with the School of Electronic and Information Engineering, Beihang University.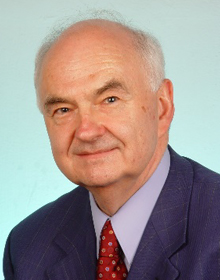 Prof. Janusz Kacprzyk
Polish Academy of Sciences, Poland
Biography: Janusz Kacprzyk is Professor of Computer Science at the Systems Research Institute, Polish Academy of Sciences, WIT – Warsaw School of Information Technology, and Chongqing Three Gorges University, Wanzhou, Chinqgqung, China, and Professor of Automatic Control at PIAP – Industrial Institute of Automation and Measurements. He is Honorary Foreign Professor at the Department of Mathematics, Yli Normal University, Xinjiang, China. He is Full Member of the Polish Academy of Sciences, Member of Academia Europaea, European Academy of Sciences and Arts, European Academy of Sciences, Foreign Member of the: Bulgarian Academy of Sciences, Spanish Royal Academy of Economic and Financial Sciences (RACEF), Finnish Society of Sciences and Letters, Flemish Royal Academy of Belgium of Sciences and the Arts (KVAB), national Academy of Sciences of Ukraine and Lithuanian Academy of Sciences. He was awarded with 5 honorary doctorates. He is Fellow of IEEE, IET, IFSA, EurAI, IFIP, AAIA and SMIA.
Steering Committees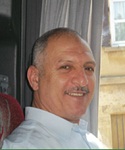 Prof. Nasr-Eddine CHAKRI
BadjiMokhtar University, Algeria
Biography: Professor Nasr Eddine CHAKRI received Doctoral Thesisstatus2007 in physics, Preparation and characterization of new magnetic materials by combustion, Magister physics semiconductor materials, in 1992, and Diploma of Higher Studies in solid state physics, in 1982.He worked in physic department, assistant (1982-1992), lecturer in 2007.He worked at collaborative research and Founding member in Spectroscopy and Magnetics of Solids Laboratory (LM2S) 2000-2004, Leader Member of the Research Laboratory of Condensed States (L E R E C) (2004-2009), Member of the research Environmental and Food Safety Laboratory. (2009-at present)and Standing Committee of expertise and control of the laboratory of environmental safety and food 2013,BadjiMokhtar University. Annaba. Algeria. His research interests Preparation and characterization and model in new materials.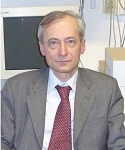 Prof. Francesco Zirilli
Sapienza University of Rome, Italy
Biography:Francesco Zirilli,born in Italy in 1949,is currently professor in the Dipartimento di Matematica G.Castelnuovo of Universita di Roma La Sapienza.Francesco Zirilli is a research scientist whose interests are concentrated in applied mathematics and in the solution of problems in science and engineering through mathematical modeling.He is the author or coauthor of over 150 papers published in refereed scientific journals and books.
Technical Program Committees
Dr. Mariem Gzara, University of Monastir, Tunisia
Dr. Spyridoula G. Kostara, Supreme Ecclesiastical Academy of Athens, Greece
Dr. GAURAV AGARWAL, Invertis University, India
Dr. AHMED LAARFI, Computer Department, JOWFE OIL TECHNOLOGY, Libya
Dr. Sanjay H A, Nitte Meenakshi Institute of Technology, India
Dr. AHMED TAHA RAMADAN, Mansoura University, Egypt
Dr. Ibrahima POUYE, University of Lomé, Togo
Dr. Abdul Qayyum Rumi, University of Jhang, Pakistan
Dr. Md. Al Amin, Bangabandhu Sheikh Mujibur Rahman Science and Technology University, Bangladesh
Dr. Lailil Muflikhah, University of Brawijaya, Indonesia
Dr. SUDHEENDRAN KOORIYATTIL, Department of Physics Sree Kerala Varma College, India
Dr. Hempal Singh, Department of Physics, Kirori Mal College, University of Delhi, India
Dr. Amadou Oury Touré, CERREGUI, Guinea
Dr. Tapas Bala, Bangabandhu Sheikh Mujibur Rahman Science and Technology University, Bangladesh
Dr. Tariq F. Al-Shaiji, Toronto Western Hospital, University Health Network, Canada
Dr. G. BABU RAO, Abdul Haq Urdu University, India
Prof. Dr. Eduard Babulak, Fellow of the Royal Society RSA, UK
Prof. Jagadeesh B, Vidyavardhaka College of Engineering, India
Prof. Mahavir Singh , Department of Phyasics, Himachal Pradesh University, India
Prof. Budnik Ruslan Alexandrovich, National Research University Higher School of Economics, Russia
Prof. B. RAJINI KANTH, T.K.R. College of Engineering and Technology, India
Prof. Rajesh Purohit, Department of Mechanical Engineering, National Institute of Technology, India
Prof. Shrikrishna Yawale, Dept. of Physics and Electronics, Govt. Vidarbah Institute of Science and Humanities, India
出版信息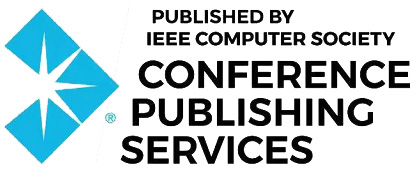 本次会议将根据投稿文章的原创性,主题相关性,论文研究成果及写作等方面来进行同行评审。被接收文章将出版于GCRAIT 2022 IEEE 会议论文集,收录到IEEE Xplore, 由EI核心,SCOPUS等检索。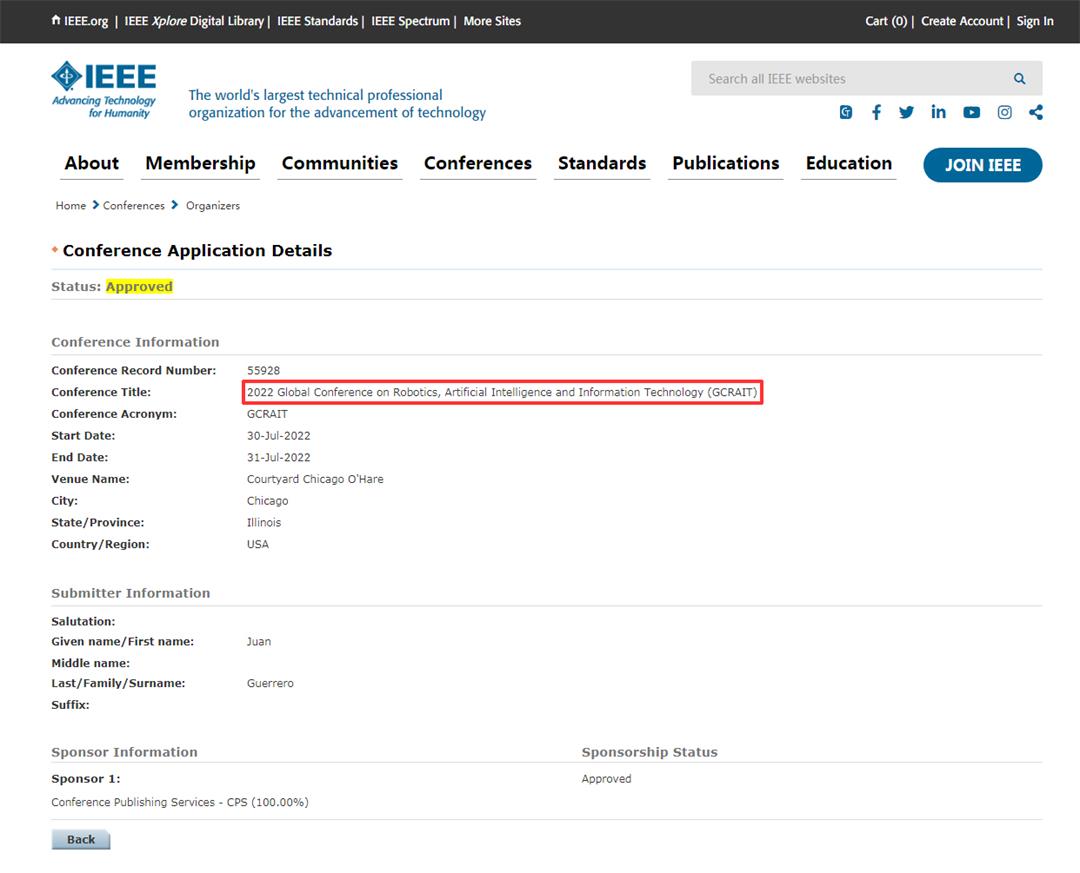 征稿主题
机器人
人工智能
计算智能
计算机科学
图形图形
电子技术
信息技术
系统自动化

查看更多
会议日程 (最终日程以会议现场为准)
---
会议采用在线直播方式,会议日程如下:
July 30, 2022
Registration
10:00-17:00

July 31, 2022

Time

Session

9:00 AM -9:20 AM

Opening Ceremony

9:20 AM -9:45 AM

Keynote Speaker

9:45 AM -10:10 AM

Coffee Break

10:10 AM -12:00 PM

Session 1A

B5G Systems

Session 2A

Multimedia Communications

Session 3A

Optical Communications

Session 4A

Radio Resource Management and Allocation

Session 5A

MIMO and multi-antenna techniques

12:00 PM -14:00 PM

Lunch Break

14:00 PM -15:30 PM

Session 1B

Stable Operation and Control of Power Systems

Session 2B

Intelligent building technology

Session 3B

Computer vision measurement and navigation

Session 4B

Error-tolerant, multivariate control


Session 5B

Multi-sensor integration and fusion

15:30 PM -15:55 PM

Coffee Break

15:55 PM -17:30 PM

Session 1C

Optimal, Robust Control

Session 2C

Variable structure, quantum control

Session 3C
Image algorithms and machine vision and applications

Session 4C

Intelligent building technology

Session 5C

Linear and non-linear control
查看更多
会议嘉宾
---
即将更新,敬请期待
参会指南
会议门票
---
| | | | |
| --- | --- | --- | --- |
| 票种名称 | 价格 | 原价 | 票价说明 |
| 参会费 | ¥1000 | ¥1000 | 参会费 |
| 稿件处理费 | ¥3500 | ¥3500 | 稿件处理费 |
查看更多
温馨提示
酒店与住宿: 为防止极端情况下活动延期或取消,建议"异地客户"与活动家客服确认参会信息后,再安排出行与住宿。
退款规则: 活动各项资源需提前采购,购票后不支持退款,可以换人参加。
您可能还会关注
---

活动家为本会议官方合作
报名平台,您可在线购票
会议支持:
会员折扣

该会议支持会员折扣
具体折扣标准请参见plus会员页面

会员返积分

每消费1元累积1个会员积分。
仅PC站支持。

会员积分抵现

根据会员等级的不同,每抵用1元可使用的积分也不一样,具体可参见PLUS会员页面。 仅PC站支持。